Post by Jess McEnulty on Nov 23, 2012 2:50:35 GMT -5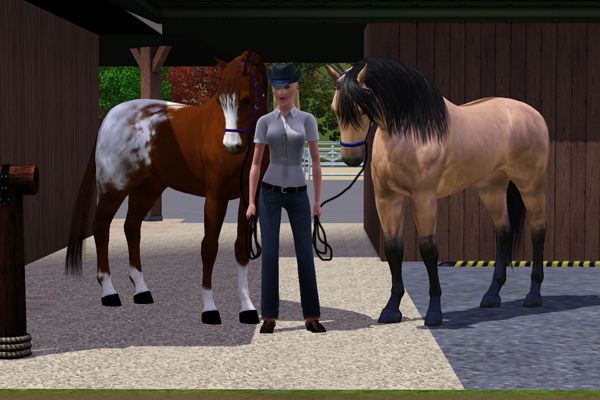 Name: Jess McEnulty
City: Appaloosa Springs
Age/Birthday: 23/ May 20
Height/Weight: 5'6"/130 lb
Education: College Graduate
Sexuality: Straight
Religion: Christian
Language: English
Occupation: Trainer and Stable Manager
Hobbies: Riding, Reading, Hiking, Painting
Pets: Horse: Remi
Tattoos/Piercings: Ears
Traits: Equestrian, Loves the Outdoors, Bookworm, Perfectionist, Artistic
Favourite Food: Tri-Tip Steak
Favourite Music: Country
Favourite Color: Purple
Friends: Marianna Johnson
When Jess was a little girl she was mesmerized by the horses she saw whenever her parents drove past the ranches on their way to town. One time, her dad took her to the local equestrian center to look around. A lady there had a beautiful brown horse that she let Jess sit on, it had been the first time she had ever mounted a horse. From that day, she dreamed of having her own horse but her parents could not afford one.
When she was 14, she got a part-time job at a stable where she was able to take lessons and compete in western competitions. She soon learned that she had a passion for training horses and hoped to someday have a career in the equine industry. So, after high school, she left for college where she earned a degree in equestrian studies.
She later moved to Appaloosa Plains where she found work as a trainer and eventually bought a horse named Remi who she fell in love with. While looking through the local newspaper one day, she happened upon an ad about a stable listed for sale. Deciding to check it out, she visited the facility and ended up purchasing it. She currently works as a trainer and a manager of Chivalry Stables.
I am familiar with the risk of injury and death that any participant in this activity must assume. I believe that I am physically, emotionally and mentally able to particiapte and my equipment is mechanically fit for my use in these activites. I also understand that all applicable riles for participation must be followed and that at all time the sole responsibility for personal saftely remains with me.
I agree to read all of the forum rules and check in for updates (eg. Cancellations, changes, etc).
If applicant is a minor: Name of Parent/Guardian: _______________
Date: ______________
Name of Participant: Jess McEnulty
Date: 11\22\12
Credit to Equus-Sims for some template ideas